Care & Storage
Our tents and accessories are of the highest quality and will last a lifetime if looked after correctly. You'll find a range of information on how to keep your equipment in tip top condition below.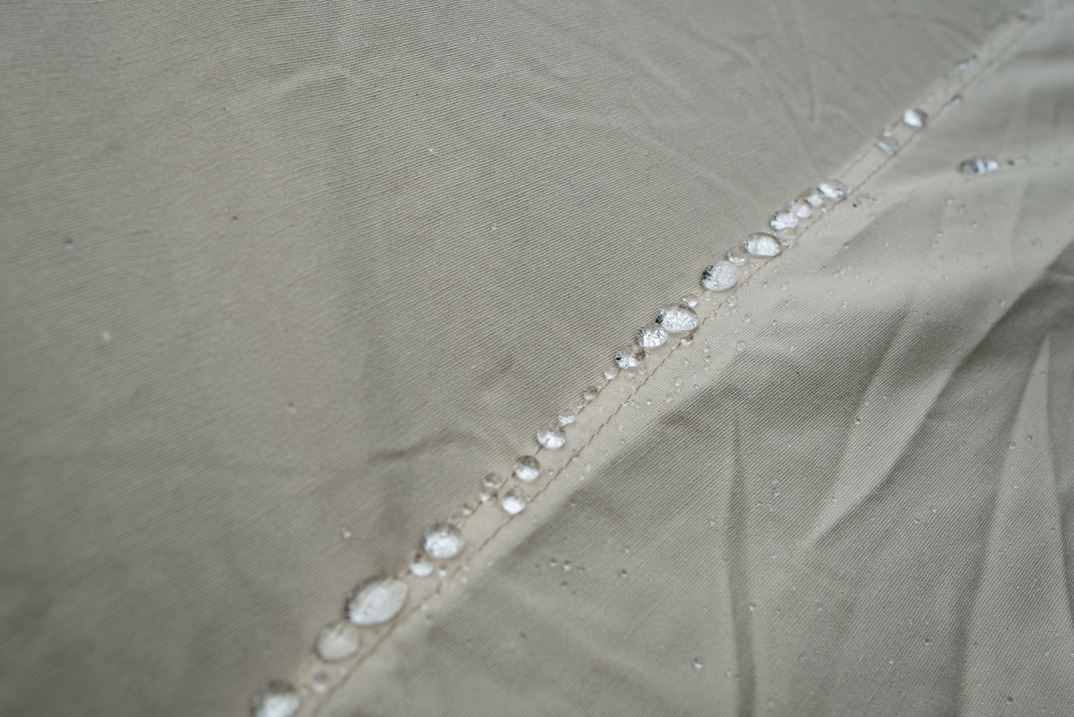 Weathering your bell tent or awning
Some new cotton canvas tents and awnings will drip or leak slightly for their first few uses in the rain even when they have undergone a water repellent treatment. 
As the canvas wets and dries out the fibres swell, sealing it against future downpours. 
This is completely normal and an inherent quality of all of the 100% cotton canvas fabric used in the manufacture of bell tents and awnings.
Please be patient with your product. Allow it to get wet and dry out a few times. You could even speed up this process by pitching your tent in the garden and misting it with a light spray from a hose pipe.
Water may collect around the seams and labels but again this is completely normal and will cease with a few weatherings.
Weathering may also occur when a morning is dewy or the atmosphere is damp so dripping and leaking is not a definite occurrence.
Please contact us directly if you have any questions or concerns, we're here to help.
Choosing the perfect pitch
Consider the following:
A flat pitch 
There's nothing worse than sliding along the floor of your tent or awning and an uneven surface will also compromise the pegs and guys.
Natural shelter
Trees and hedges can be used as barriers against wind and rain, pitch close but not under them.
Trees and woodlands
Avoid pitching under a tree as debris of all kinds may fall onto your tent or awning and damage it. From tree twigs and berries to bird poo and branches there are all sorts of hazards to be avoided.
Door opening 
Ideally the door should face away from the prevailing wind. The wind will then blow over your Bell Tent and awning and not through it.
Groundwater flow
Rain water has to go somewhere, make sure it's not under or around your tent. Choose the driest spot you can find and nowhere that's boggy.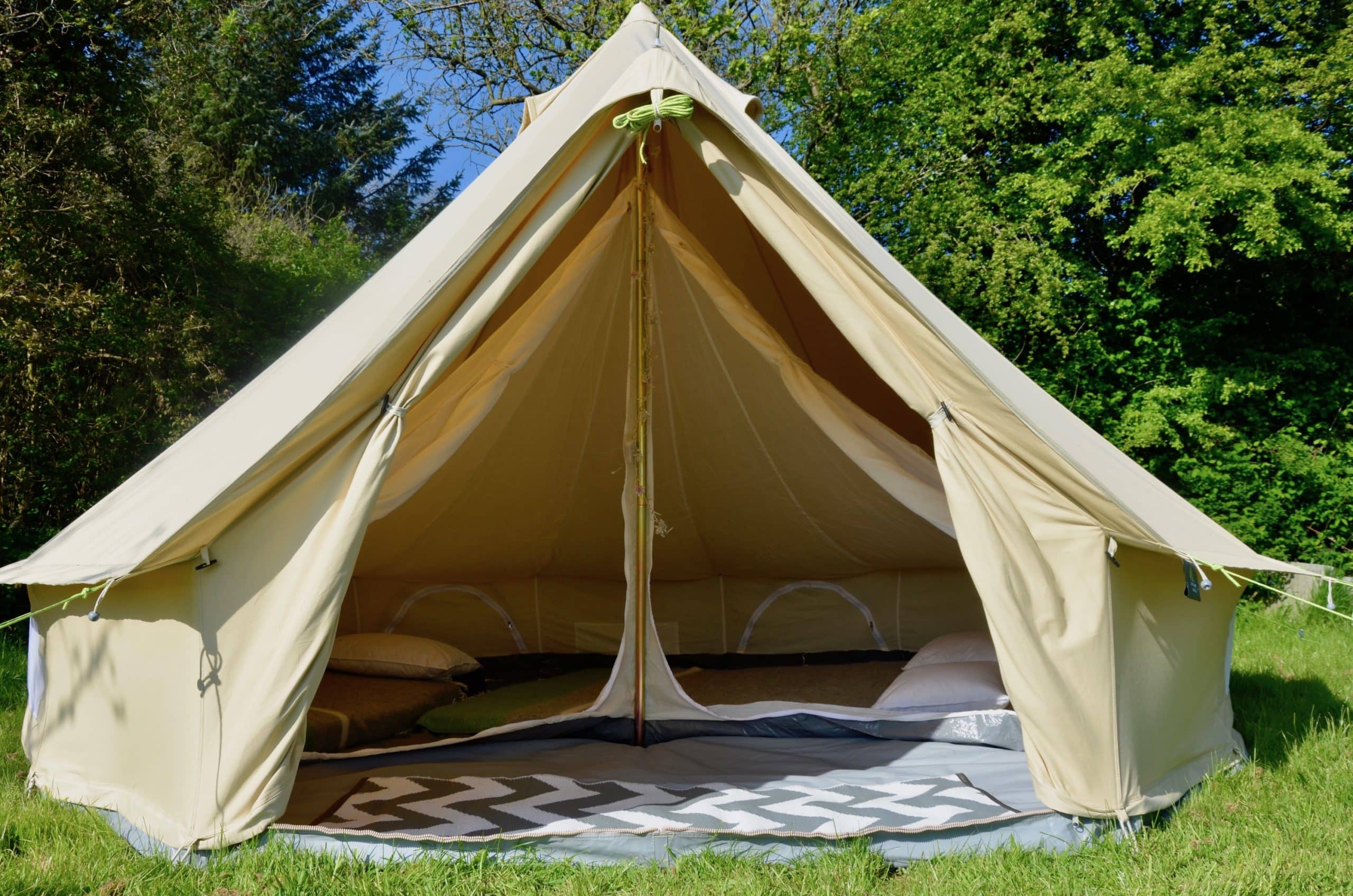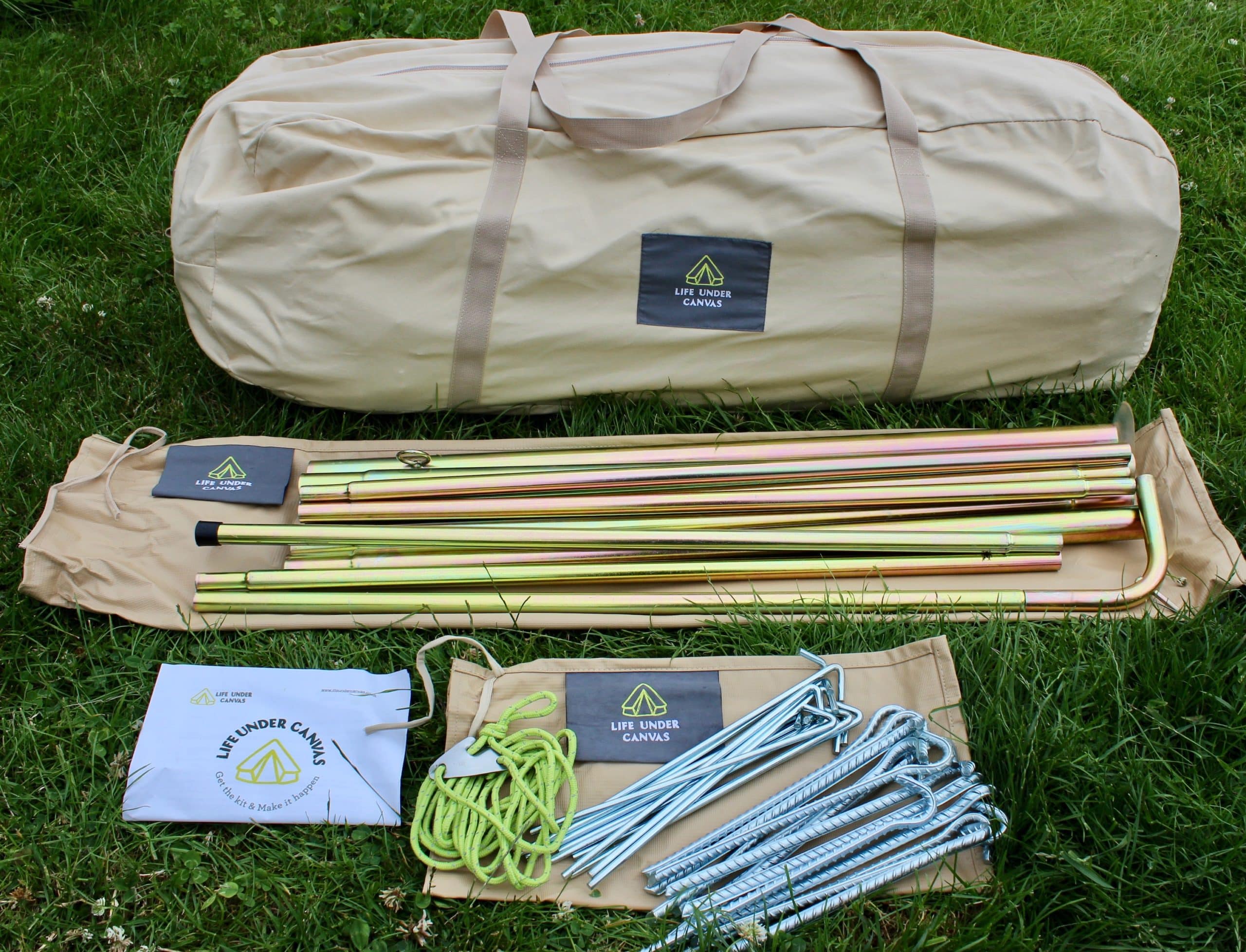 Storing your Life Under Canvas tent or awning
You must ensure that your tent or awning is completely dry before you put it away.
If you need to leave your campsite and it is damp please ensure that you put it up again to dry out within 24 hours. The tent or awning needs air to circulate round it to dry completely and the only way to ensure this is the case is to pitch it. Failure to do so could result in mould and mildew forming and this is very difficult to remove.
Do not hang your tent or awning to dry as mould and mildew could still form in folds and creases.
Store in a dry place away from damp, ideally at room temperature.
Keep safe from rodents and insects.
Do not store anything on top of your tent or awning.
Pitch your tent or awning at least once a year in order to check it and to help keep its shape.
Guidelines for Reproofing your Bell Tent
Always make sure that your tent is completely dry and free of dirt before reproofing.
Erect the tent in an open area, away from trees and bushes on a dry, preferably sunny day.
Pour the reproofing solution into a clean paint tray or other suitable vessel.
Using a long handled brush or paint roller apply a thin layer of the reproofer, taking care to include all areas of the canvas and the seams.
Allow plenty of time for the reproofer to dry completely before packing away the tent. Never pack your bell tent away wet.
On next use in the rain, if the water still soaks into the fabric rather than beading a second coat maybe necessary.
We accept no responsibility for the use or misuse of any reproofing products purchased from Life Under Canvas. It is the customer's responsibility to ensure that the manufacturers instructions are followed closely. If in doubt please ask.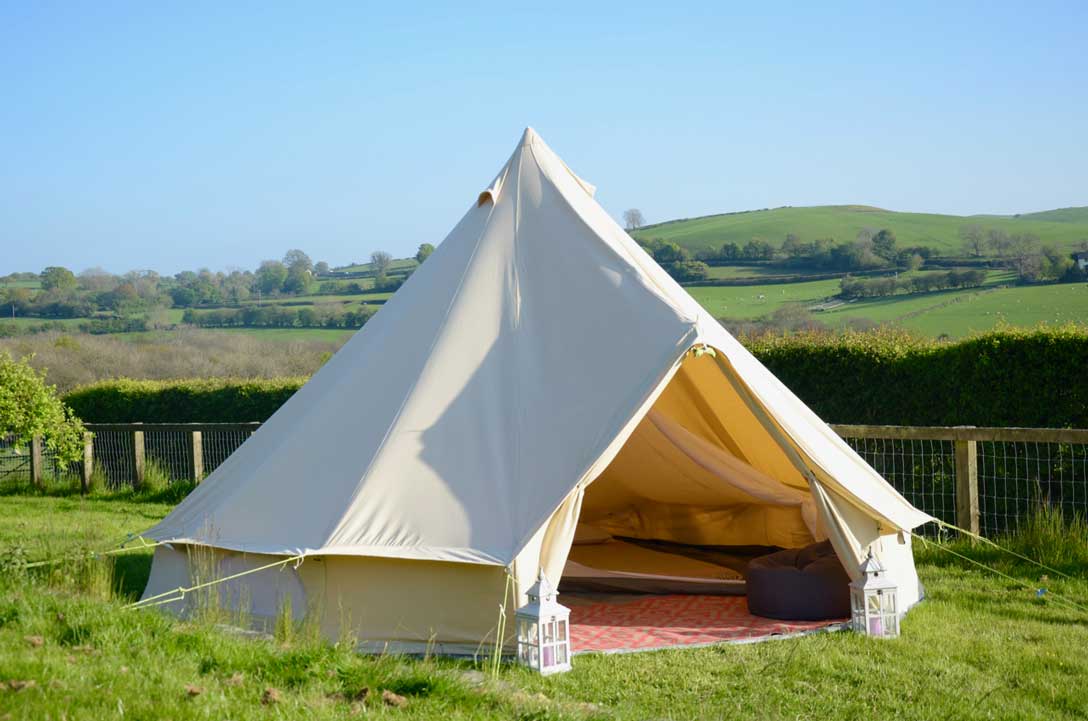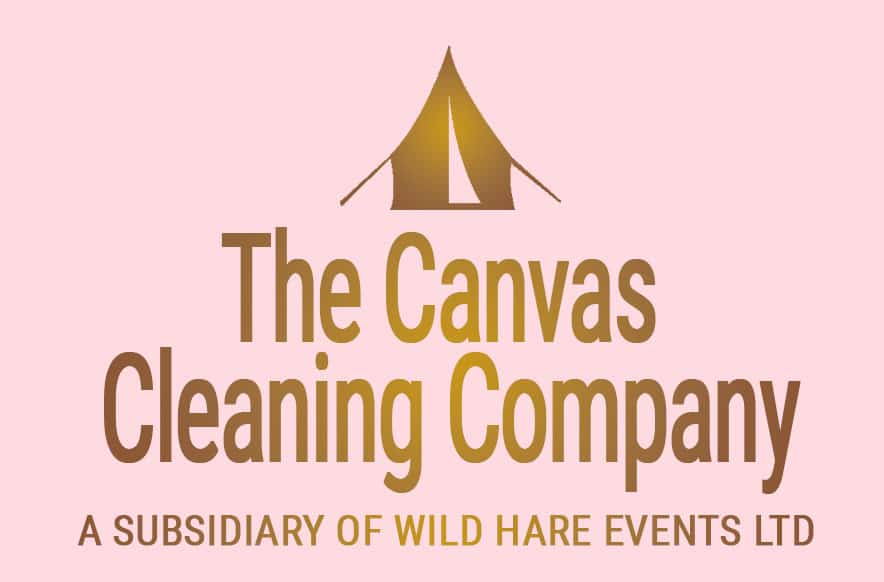 If cleaning your canvas yourself doesn't appeal to you, then we recommend The Canvas Cleaning Company. They are a commercial canvas laundry specialising in cleaning, waterproofing and repairing canvas structures, all types of bell tents and canvas awnings. They have developed a tried and tested system with a global laundry expert, bringing together cutting-edge technology and specially formulated products that give outstanding results. They also have services for waterproofing and repairs.
Go check them out!