6 x 4m Fire Retardant Emperor Bell Tent with Stove Hole
£1,049.00
Out of stock
This Emperor Bell Tent is a weightier 320gsm cotton and during the manufacturing process is treated with Proban® fire retardancy solution then tested to BS7837 standard.
It's a perfect solution for anyone looking for year round camping or wanting to use a wood burning stove in their tent. The stove hole is in the second roof panel, back left corner and is suitable for use with a stove with top exiting chimney.
Also ideal for anyone looking for a rental or public use tent with essential and documented fire retardancy.
This large majestic bell tent is cavernous and for the size is a dream to put up quickly. It's a must for a long family camping holiday or a large group gathering and the perfect chill out space for a wedding or party. With plenty of space for each member of the group to claim a corner as their own or with inners to split the living and sleeping space it's just the tent for a long lazy camping holiday. Filled with straw bales and beanbags it's the ultimate outdoor chill out lounge, and an eye catching addition to a camping or party occasion.
Organising a community event or need a tent for regular school functions? This 6 x 4m Emperor Bell Tent is perfect shelter from the rain or shade from the sun and is a lovely space for hanging out and chilling out.
Manufactured for Life Under Canvas to a high specification sleeps a large family or 2, or a group of 10/12 singles without an inner. Seats many more, 25 plus if you're happy to be cosy!
Please note that we cannot be held responsible for the mis use of wood burning stoves in our Bell Tents.
Not sure which size Bell Tent is right for you? We've put a handy guide together to help. Download it here.
Alternatively, try out our questionnaire to find your perfect Bell Tent!
BS7837 is the only relevant BS standard for fire retardancy treatment for a tent. Please see our advice page for further information.
A flashing kit must also be purchased to secure your chimney.
Reasons to choose Life Under Canvas
Over the last few years we have tried and tested all specs, styles & sizes of bell tent & have put together the best features. The result is our very own range of Life Under Canvas bell tents which we are confident will ensure a practical and relaxing camping experience.
320gsm sand 100% cotton canvas - rot, mould and water resistant
Fire retardant - Fully Fire retardant to BS7837:1996
With 100mm stove hole - for stove with 60mm top exit flue plus rain flap for when stove not in use
540gsm grey PVC floor - zipped in, bucket style, thick and waterproof
Mosquito mesh at the doors and windows - standard in all tents and zipped all round
Storage Pockets - 2 handy storage pockets for keys, wallets, books etc
Inside fixings for inner tents - around the whole tent
Strong, bright polyester guys - more secure in high winds and easy to see
Elastic Toggles - to secure guys tidy when packing away
Strong grooved rebar pegs for guys - to prevent slipping guys
Metal sliders - stronger than plastic, more secure in high winds
2 metal central and door pole - 38mm and 19mm diameter
Longer door spike - for easy awning attachment
2 rain caps - sometimes they get lost!
Mallet included - everything you need to put the tent up
Great customer service - pick up the phone or drop us a mail, there's always a friendly voice to answer your questions
Tent includes:
2 x carry bags (1 poles & pegs and 1 tent)
1 x Emperor tent
2 x pockets
4 x 400cm guy
21 x 200cm guy
16 x floor pegs
25 x guy pegs
2 x centre pole
4 x vertical door poles
2 x horizontal door poles
4 x rain caps
1 x mallet
Dimensions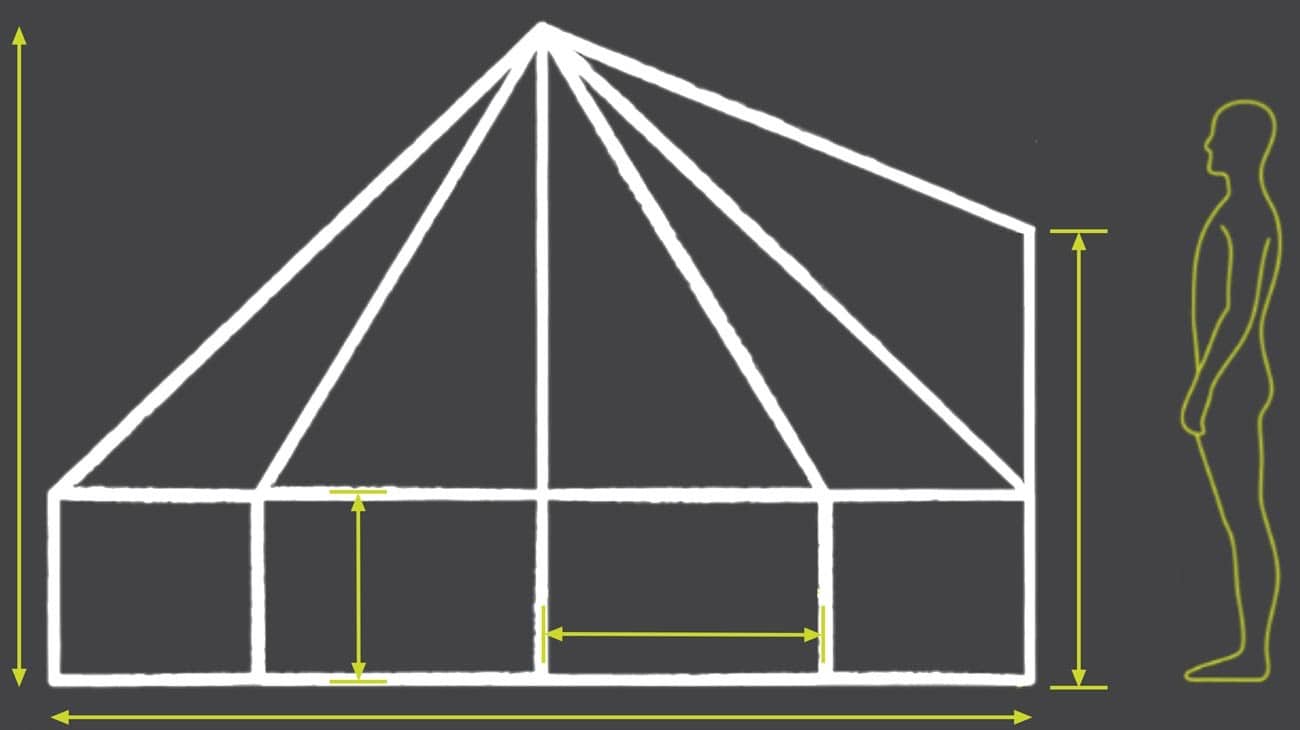 18
6
The Emperor tent is a spacious tent perfect for family camping trips or lots of singles. The ultimate style for summer garden gatherings. Add an inner to create two bedrooms.
The tent comes in 2 packages. The 1st package contains the Emperor tent and the 2nd contains all poles, pegs and guys. Both items are easy to transport and store.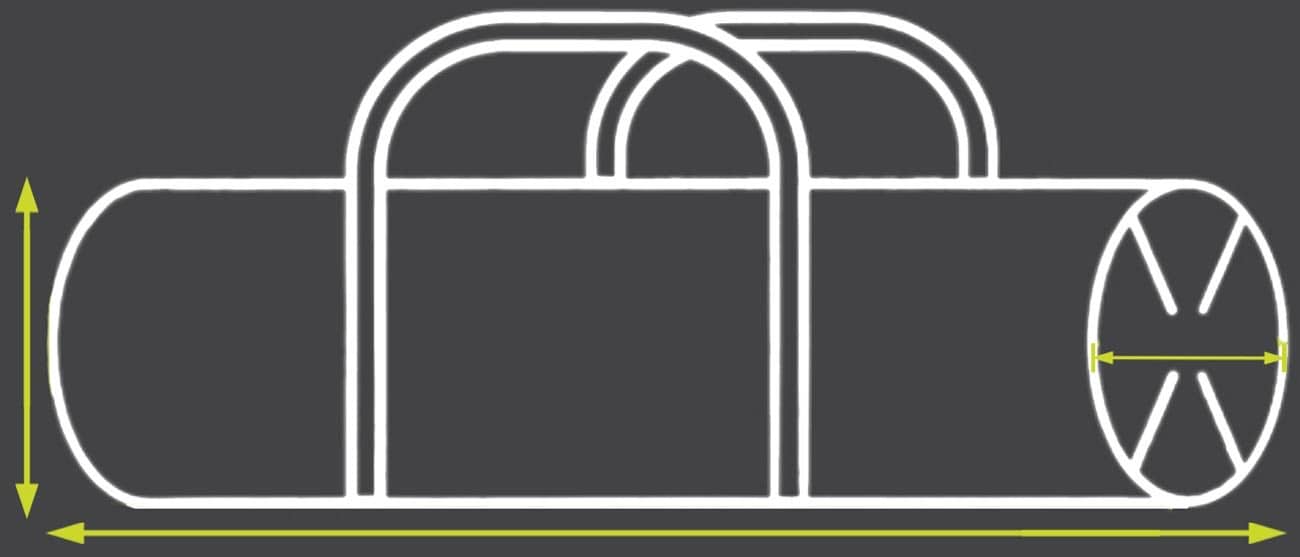 41
25
1
Make your tent feel like home
Frequently Asked Questions
To find out where the best place to pitch your bell tent, check out our care and storage page –  Care & Storage
Your tent should be reproofed when it is visible that water droplets soak into your canvas rather than beading on top.
Guidelines on how to reproof your tent are available on our care and storage page – Care & Storage
The difference is the amount of poles included. The awning comes with one pole and is intended to be attached the front door pole of your tent as some extra space or shelter. The awning plus comes with three poles to create a bigger shelter from your bell tent. Both the awning and the awning plus have the ability to be free standing with the addition of an extra pole. Great for extra shelter or a garden canopy.
Yes, it can be rolled down and velcroed in place to ensure water can not get in through your stove hole.
You must ensure your tent or awning is completely dry before packing it away. The best way to dry your canvas is to pitch it and let it air dry.
Store in a dry place away from damp and do not store anything on top of your tent or awning.
Check out our care and storage information page for more – Care & Storage
The best way to clean your bell tent would be to let it air dry. Once the mud and debris is dry, it can be removed using a stiff brush. We also have cleaning and reproofing agents sold on our website.
We have a handy guide with more details on the best way to give your tent some TLC – Cleaning and Proofing.
All tents require 1m around for set up. Check out our quick guide to see more – Quick Guide
Check out our quick guide to know how many people fit comfortably in our bell tents – Quick Guide
For the 3m, 4m, 5m and 6m bell tents, you would need two bell tent mats to cover the bell tent floor.
For an Emperor or Touareg tent we suggest using our recycled picnic mats.
Our tents are designed for occasional camping use for the leisure industry. They are not designed to be left up for continuously long periods of time, therefore our warranty does not cover them for this.
However, many people choose to leave them up and they can last being left up for longer. The longevity of the tents depends on how well they are looked after and where they are sited.
If you have anymore questions, please do not hesitate to contact us!
Bell tents are manufactured from 100% cotton canvas and this is inherently waterproof. When the tent is used on the first few occasion the cotton fibres expand and knit together to create the waterproof fabric. If you are unfortunate enough to be subject to a torrential downpour on the first use of your tent you may experience small leaks particularly around the seam areas. This is perfectly normal and will subside after a couple of uses.
Generally the fibres expand in normal damp conditions and no leaking occurs. If looked after properly your Life Under Canvas Bell Tent should last years and years.
Our inners are compatible with other bell tents if the width of the panels match ours. The measurements for our panels can be found on our quick guide – Quick Guide
Our awnings are compatible as long as they have a door spike. This makes them attachable to any other bell tent.
See what our customers think