Troubleshooting
If you care for your Life Under Canvas bell tent or awning well then it will last for years and years. Of course packing up and putting away and how you store your tent is important and should be carried out properly but there other elements to take into consideration too.
Pegs - Make sure they are securely fixed into the ground to keep the awning in place. It's worth checking them regularly while your tent or awning or canopy is pitched.
Poles - The guy ropes should be taut at all times to ensure that the central pole is straight and secure. Again it is worth checking these regularly while your tent or awning or canopy is pitched.
Sliders - The sliders will need altering depending on the weather conditions. In wet weather the canvas will loosen so the sliders will need tightening. Conversely the sliders will need releasing in drier weather.
Snow - Life Under Canvas bell tents and awnings are not intended for use in snow. If it happens to snow when the tent or awning or canopy is pitched please clear the snow from it regularly, take it down as soon as possible and dry it out thoroughly afterwards.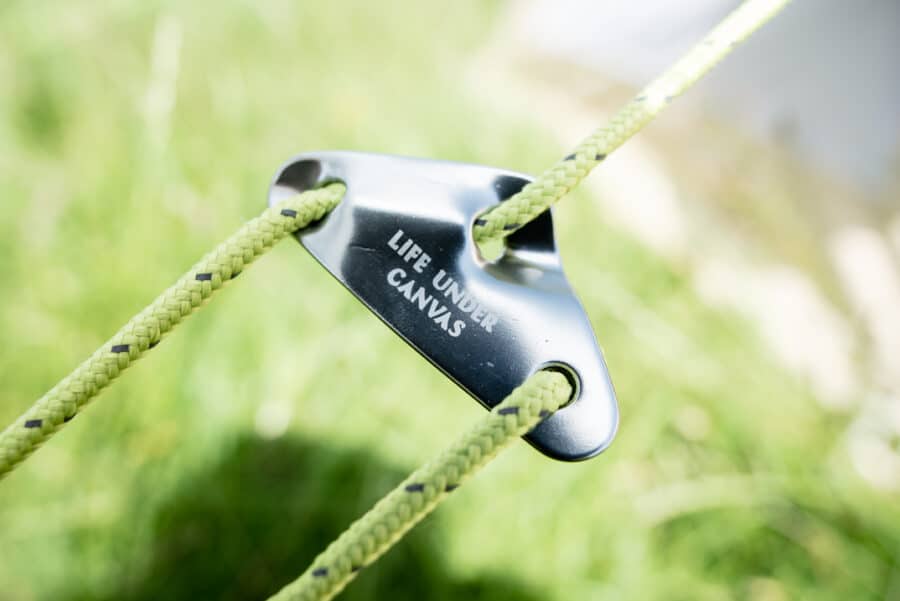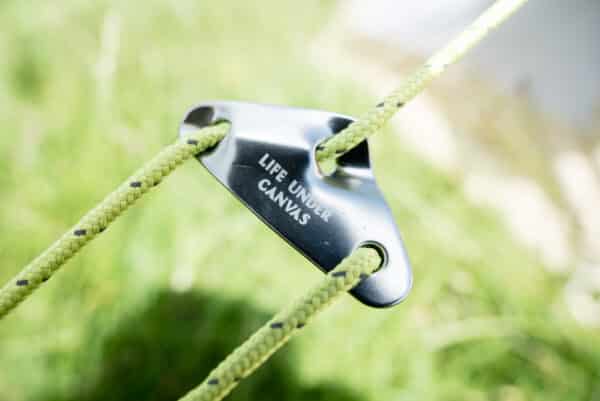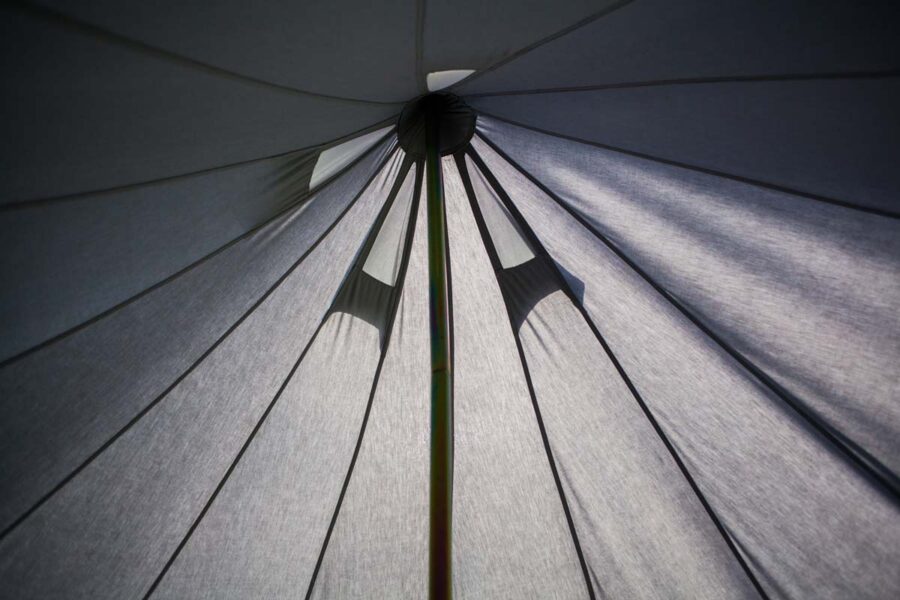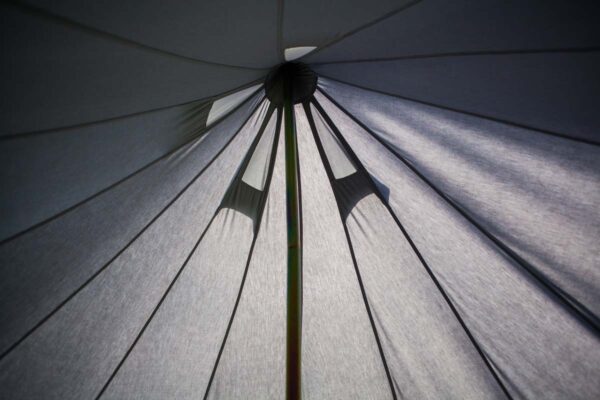 Wind - Life Under Canvas tents and awnings are robust and withstand adverse weather conditions well. However we cannot be held responsible for damage caused by excessive weather conditions. If you are camping and extreme weather conditions are forecast please carefully consider your tent and awning. In particular extreme wind can cause canvas to lift and flap if not securely fastened so check guys and pegs regularly and if in doubt take down your tent or awning.
Debris - Please ensure that any debris is cleaned from your  tent or awning or canopy immediately to prolong the life of it. This includes bird droppings, water, salt, sand, cooking spills or splashes, mud, grass etc. The lifespan of the tent or awning or canopy will also be affected by air pollution and UV radiation.
Mildew - Mildew is a common problem but is easily preventable. It is usually caused by excess moisture in the canvas so you should always ensure that your awning is completely dry when put away. It is also a sign that your tent may need re-proofing (see below).
Mildew can also arise when the tent or awning or canopy is pitched if the climate is particularly humid. If this does occur clean the mildew off immediately using a specialist canvas cleaning product and then re-proof the cleaned areas.
UV Damage - UV light can cause fading of your tent or awning or canopy. If it becomes very pale (in contrast to the bag it came in) it may need re-proofing. UV damage can cause a reduction in the effectiveness of the natural waterproofing qualities of the fabric and the anti fungal protection.
Cleaning - You should check the condition of your Life Under Canvas tent or awning or canopy regularly and clean more frequently if it has been used many times. It needs to be cleaned with a specialist cleaning product and then re-proofed afterwards. If it is left too long before being cleaned mildew and fungus can spread over the tent and then be difficult or impossible to remove.
Re-proofing - You will know that it is time to reproof your Life Under Canvas bell tent or awning when you notice that the fabric no longer beads the water after a downpour, but absorbs some of the moisture into the canvas and takes longer to dry out.
Please see the care pages for recommendations of cleaning and re-proofing products.
Repairs - Of course accidents do happen and you should repair your tent or awning or canopy as quickly as possible should any problems occur. Canvas tears can be repaired by sewing with a traditional needle and thread or with patches and and holes with patching. We sell packs of repair patches that can be cut to any size to repair tears and holes.
For more serious repairs please contact us and we can recommend a number of companies that will take delivery of your tent and repair it for you.