Why buy from Life Under Canvas?
We know what we're talking about
We're keen campers and glampers and we've done the research. We know what works and what doesn't so you can be confident in the advice you receive.
High quality standards
Our tents pass through rigorous quality control procedures during manufacture to ensure that every tent is exceptional quality so you can shop with confidence.
2 year warranty
We are confident that the quality of our products is second to none so we offer a 2 year warranty on our regular (not trade) products.
Friendly efficient service
Questions are answered swiftly and efficiently by phone or email. There's always a friendly voice at Life Under Canvas.
Fast despatch
All orders placed before 12 noon will be despatched the same day on a next day service where possible. Our courier interactive text and email service means you wont miss your delivery. Just let them know a safe place or if you want to re-arrange delivery.
What makes Life Under Canvas Bell Tents unique?
Here at Life Under Canvas we have carefully chosen, high quality 100% cotton canvas bell tents and camping accessories so you can embrace the outdoors in comfort and style.
In general bell tents for sale in the UK have a number of standard features such as 280/285 gsm cotton canvas, 540 gsm groundsheet, bucket style groundsheet, 32mm spring loaded metal poles etc. We've tried and tested many Bell Tents on the market and have used the experience and knowledge that we've gained to put together our own model with these standard features plus some extras of our own.
Here's what makes our bell tents unique.
Extra long door spike
We had a bell tent and wanted to try an awning with it but even in a gentle breeze or with a small knock it popped off the the spike. Our bell tent door poles have an extra long spike for easy awning attachment.
2 rain caps as standard
Rain caps are important. They fit over the door spike to stop the rain dripping down the pole. Even with an awning on the pole it's essential that you use a rain cap too. Our extra long door spike means that this fits easily over of the awning. They can get lost when you're putting your tent up or taking it down though so we supply 2 as standard.
Elastic guy toggles
We run a Glamping site too and over the years have tried many different types of tents. One feature that we've loved was the ability to tie up the guys when the tent was not in use. Guy ropes get muddy and wet and many manufacturers recommend that you thrown them onto the tent when you're packing it up. This can flick dirt and water onto the tent so our tents come with handy toggles to tie the guys up after use.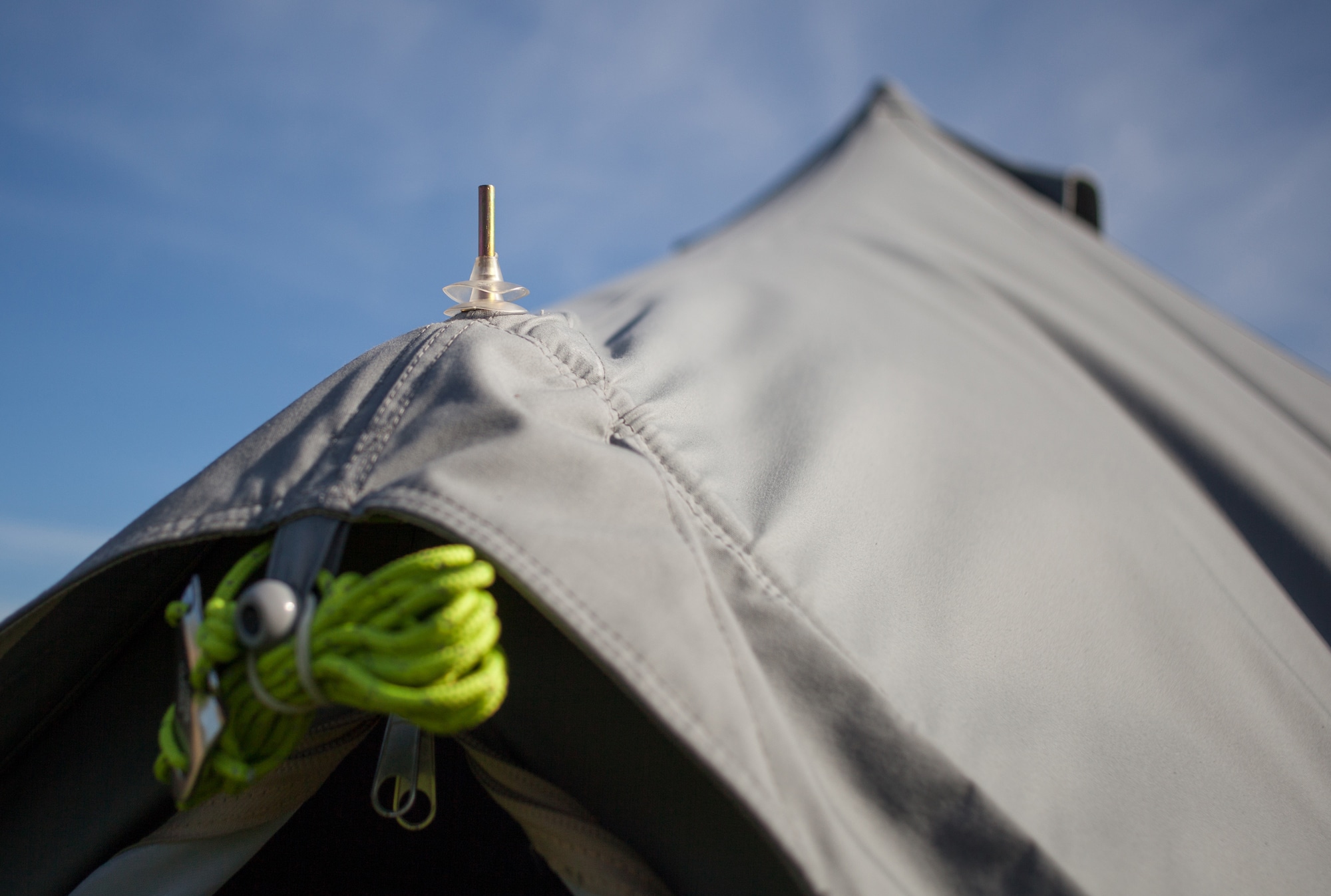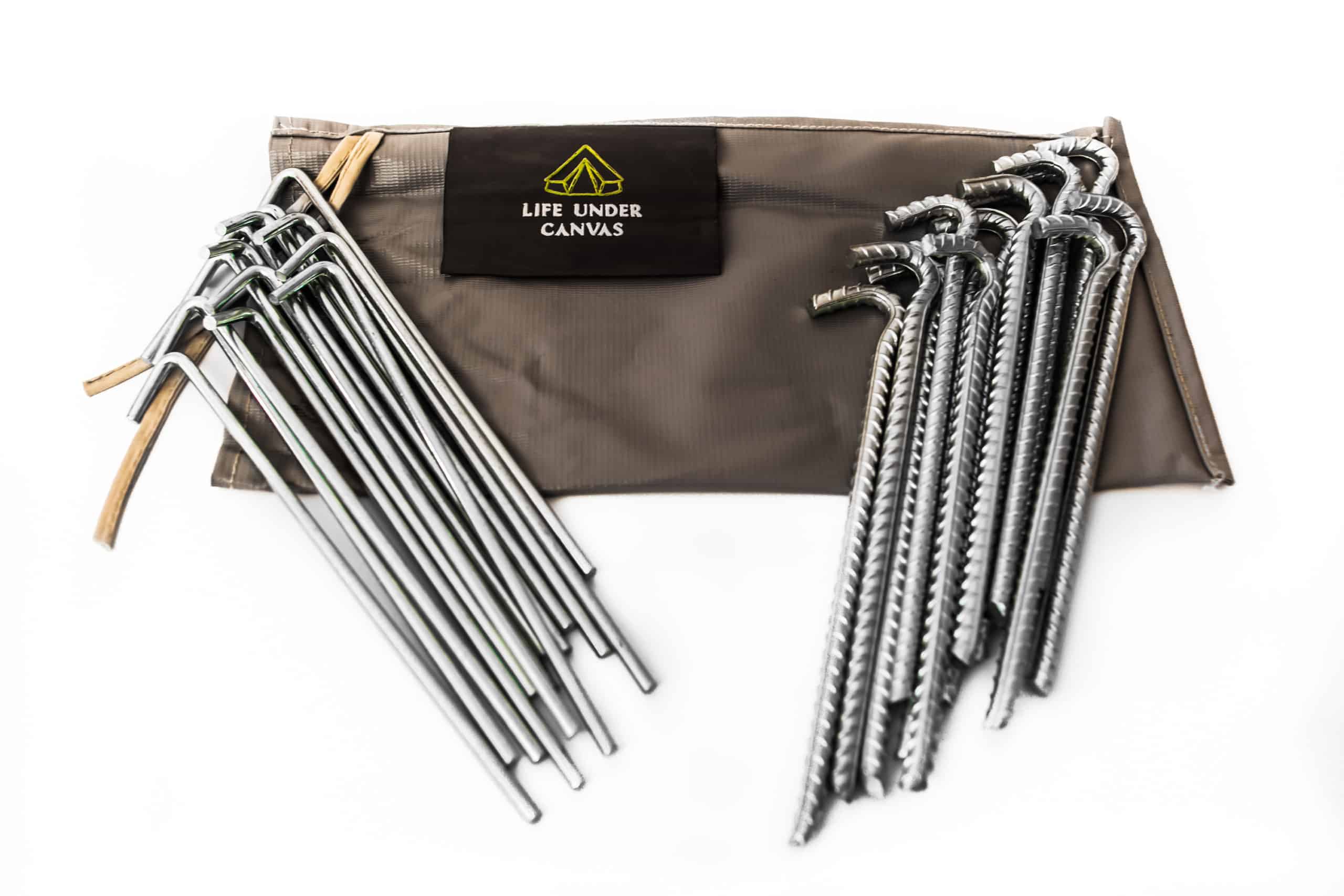 PVC panel on bottom of the bag
Sometimes the ground is damp and if your bag is damp the tent will get damp.
The PVC bottom protects the bag and means you can be confident your tent will stay dry in the bag even on damp ground.
Extra carry handles on the bag
Bell Tents are quite heavy but with the right carry handles are very manageable. Life Under Canvas tents are supplied in a branded bag with long reinforced shoulder straps plus short handles on either end so they are easy to carry alone or with a friend.
Mallet included
Because then you've got everything that you need!
Mosquito nets at all doors and windows
Our tents have nets on all the doors and windows. It's also important that the door nets zip along the bottom as well as up the middle. No point in opening the doors and not being able to close the nets.
Strong Guy Pegs
There's nothing worse than bent pegs! Our pegs are strong and straight for the floor and skirt and thick and grooved for the guys. This is a great feature as it stops the guys sliding up and off the pegs. There's the thought too that wooden pegs are a better option but they are difficult to hammer in, especially when the ground is hard or stony and can be tricky to clean.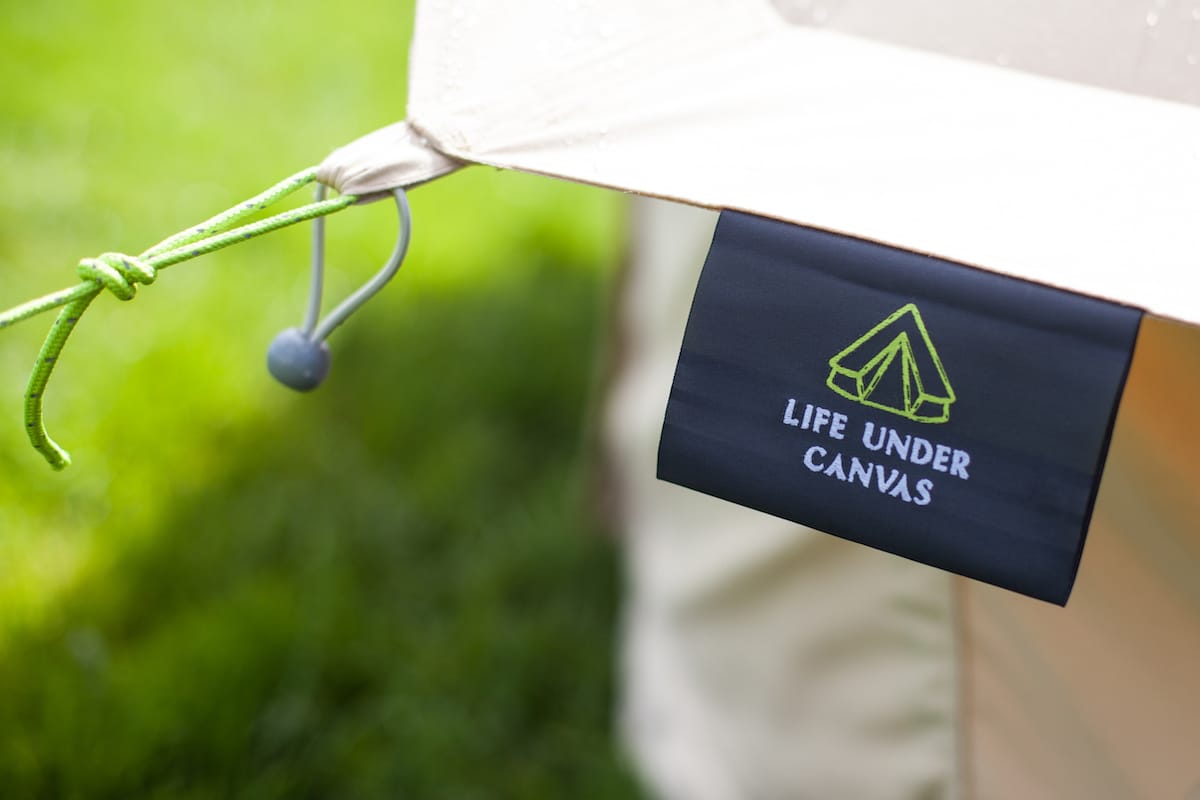 Bright thick guys
Guys ropes come in all colours and thicknesses. Ours are thicker than standard, robust and brightly coloured with a florescent fleck. Really handy for night time returns to the tent!
Metal Sliders
Plastic sliders just don't hold the guys in place in adverse weather conditions and you'll find yourself constantly tightening them. Metal sliders are more secure and also easier to get hold of and move. Again there's the thought that wooden sliders are an upgrade but these don't hold easily and can swell and shrink with damp conditions.
Fixings for inner tents
Even if you don't buy one from the outset you may decide that you'd like an inner compartment for your tent. It does give a cosier feel and can help keep bedding etc away from your living space. All our tents have the fixings round the inside to attach the inner and a loop on the central pole to hook it up.
Great Quality at affordable prices so you can enjoy your Life Under Canvas.