Bell Tent Groundsheet
£39.00 – £69.00
This practical footprint can be used to protect the groundsheet of your 3m, 4m, 5m or 6m Bell Tent. It is designed to fit underneath and has eyelets for the floor pegs of your tent to fit into to hold it tight.
It provides an excellent layer of protection for your groundsheet and tent when pitched. It also means that when you're ready to pack up and put away there's a clean base to fold and roll up your tent on ensuring a super quick pack up time!
Once at home, as long as the canvas is dry, you can store your tent for the next use and wash off the lightweight groundsheet easily and leave it to dry quickly.
Not essential but a very practical and useful addition to your Life Under Canvas.
*Please note this product is sand. Awaiting updated photos.
Reasons to choose Life Under Canvas
Over the last few years we have tried and tested all specs, styles & sizes of bell tent & have put together the best features. The result is our very own range of Life Under Canvas bell tents which we are sure will help you enjoy your camping experience.
180gsm PE  - lightweight for easy transportation
Strong and Durable - a protective layer on wet, stony or muddy ground
Time Saving - creates a dry clean space for packing up your tent
Compact - supplied in a drawstring bag
Available for 3m, 4m, 5m & 6m bell tents
Dimensions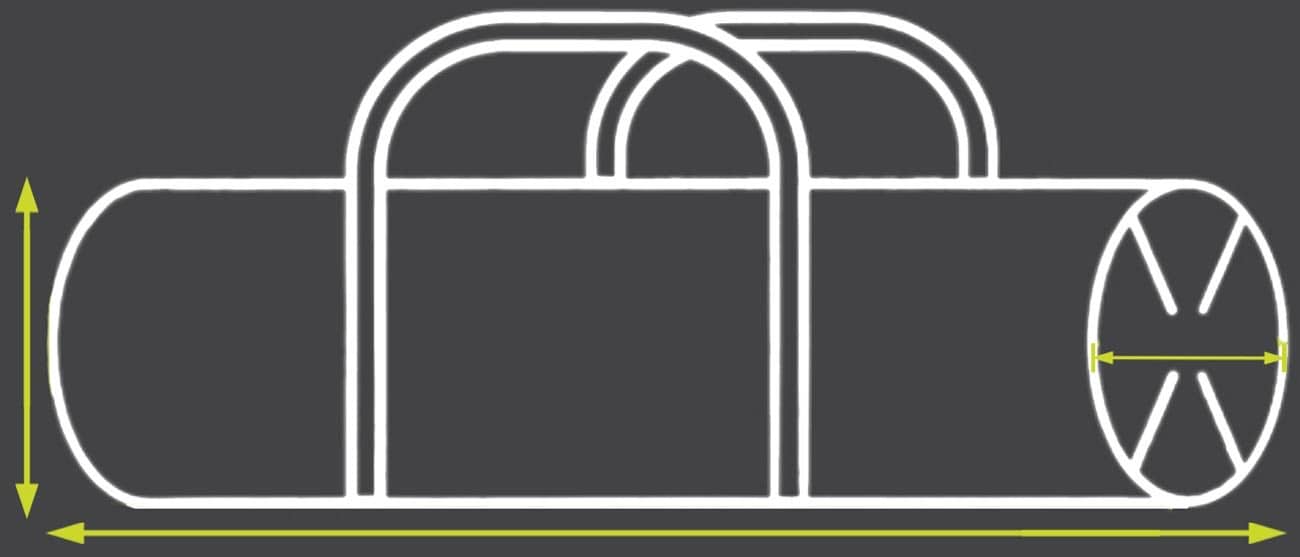 Available for 3m, 4m, 5m & 6m bell tents
FAQs
Our offices and warehouse are both located in Wales.
Full address, email and telephone number are located on the contact us page – Contact Us
We usually receive our stock for the season by early March. Please contact us for the exact date for the item you are interested in.
We stock many different spare parts and extras for our Life Under Canvas tents, these include poles, rain caps, mallets, guys and peg sets. Please have a look at our spares page for more details – Spares
We also stock spare swatches of fabric, elastics and springs for poles so if you don't see what you need please don't hesitate to contact us.
All canvas products have a 24 month warranty against genuine manufacturing defects. The warranty does not cover damage caused by adverse weather conditions, mould and mildew damage as well as damaged caused if the canvas is left unattended.
More information on our warranty can be found here – Warranty
Most of our orders are despatched from our warehouse either the same day or day after purchase using a next working day delivery service. On occasions there may be a delay in despatching your order but we will let you know as soon as your order is received if we anticipate any problems.
If you require your order especially urgently it's a good idea to give us a call to let us know and we will endeavour to help with a quicker despatch in any way that we can.
The majority of our orders are sent with TNT on a 24 hour service. We will send the tracking info to you after we have processed your order. As long as you provide your mobile number and/or email address you will receive a notification from TNT informing you of the day of delivery and then a notification with a time slot for the delivery.
There is always an option to change the delivery slot or make arrangements for your parcel to be left with a neighbour if you are not going to be in.
Our eco absorbent door mats are super easy to clean. You can allow them to completely dry and use a stiff brush to remove all mud and debris. Alternatively you can use a pressure washer.
We are able to ship world-wide. A shipping price should appear once you have entered your zipcode. If you are having any problems with this then please enquire through email.
You do not need to be at home for your deliveries as you are able to let the courier know where to leave your parcel using the tracking number we provide for you.
See what our customers think